"Trust in the Lord with all thine heart; and lean not unto thine own understanding, In all thy ways acknowledge him and he will direct thy paths." Psalms 3:5-6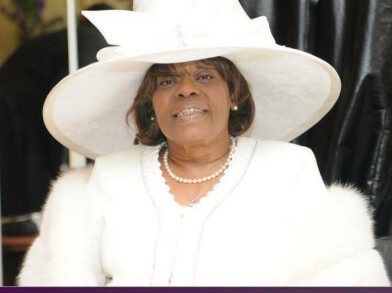 Mother Pearlie Mae Brown was born in Crawfordville, GA as the oldest of 6 siblings. She relocated with her mother to Washington DC in 1942. She attended DC public schools throughout her youth and graduated from Cordoza High School. Mother Brown was filled with the Holy Ghost at the early age of 12 years old at The Bible Way Temple in NW, Washington D.C. Upon her graduation she furthered her education in childhood education and social services. She received a A.A in Early Childhood Education from PG Community College, and a B.S in Early Childhood Education and Social Work from Bowie State University. Mother Brown began serving in ministry at a young age at The Bible Way Temple. She served on the Jr. Usher Board and was also the directress of the Joy Bell Choir. Upon her graduation she became a radio personality for the gospel radio station WUST 1120.
Mother Brown met and married the late Apostle Joseph N. Brown, D.D at the Bible Way Temple. The two had 3 children together: Darryl, Cheryle, and Delethian. Mother Brown served as the First Lady of The Greater Bible Way Church for over 35 years. Working beside her late husband in the work of the ministry. A prayer warrior, renown soloist, and preacher of the gospel, Mother Brown has labored faithfully. She was also a successful business women and the proprietor of "Pearlie's Paradise".
Although she was gifted in many areas of ministry, Mother Brown knew that God had specifically called her to work with other woman in ministry and other clergy wives. She has been a leader and mentor to young clergy wives and women in ministry all over the country. She has not only served the local church, but she served the International Bible Way Church for years as well. Mother Brown served and held many leadership offices, utilizing her God given gifts to be a blessing to the body of Christ. She served as the President of Kappa Delta Pi Honor Society, President of The International Bible Way World Wide Church of Jesus Christ, Inc. clergy wives and widows for 19 years and president of The Interdenominational Minister's Wives & Widows.
Mother Brown is currently serving as the Shepherd Mother of the Greater Bible Way Church. She is still providing her leadership and guidance to women in the local church and all over the country.
"Who can find a virtuous woman? For her price is far above rubies"

Proverbs 31:10