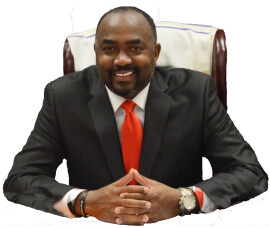 Pastor Neil O. Gross is the Senior Pastor of The Greater Bible Way Church. He was born and raised in Calvert County, MD, the youngest son of 3 to Deacon Lorenzo and Alberta Gross. Pastor Neil was raised in the church and begin to serve in the church at a young age, singing on the choir and serving on the young adult usher board. He was educated in the Calvert County public school system and upon graduating from Calvert High School, he went on to pursue his education at Bowie State University. Pastor Neil was one of the first recipients of the Thurgood Marshall scholarship award. Pastor Neil graduated from Bowie State University with a B.S in Business Administration with a concentration in accounting. He also is a member of the Alphi Phi Alpha Fraternity, Inc.
Despite his academic success, Pastor Neil knew there was a unique call on his life to be in ministry. He was trained in the church and served the late Apostle Joseph N. Brown, D.D and married his daughter, Co-Pastor Delethian. Pastor Neil served faithfully and came up through the ranks, from ordained Minister, to Elder, and then District Elder ordained in The International Bible Way Church of Jesus Christ, Inc. He walked with Apostle Joseph N. Brown wherever Apostle Brown led.
Pastor Neil was called to lead The Greater Bible Way Church when Apostle Brown became ill and could no longer Pastor. He and his wife, Co-Pastor Dee, were installed as Senior Pastors of The Greater Bible Way Church on September 19th, 2010, after Apostle Brown was called home to glory. Pastor Neil continues to lead the people of God by the leading of the Holy Spirit. He is not only a preacher, but a teacher who breaks down the word of God so that it can be understood and applied to one's daily life.
And I will give you pastors according to mine heart, which shall feed you with knowledge and understanding.

-Jeremiah 3:15